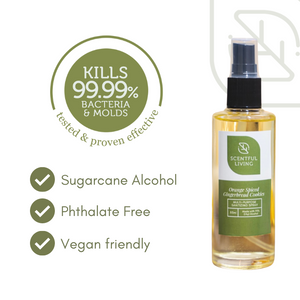 Scentful Living
Orange Spiced Gingerbread Cookies Room Spray 🐾
Regular price
₱334.80
₱0.00
Unit price
per
Tax included.
About the scent: Who doesn't love gingerbread 🍪 cookies around Christmas? Let the enticing smell of freshly baked cookies waft throughout your home!
How to use: Instantly scent, change the ambiance, and sanitize in any room in your home with our our sanitizing sprays! Our sanitizing spray bases are made with methanol-free Sugarcane alcohol and proven effective to kill 99.99% bacteria and microbes through third party laboratory tests.
Spray a small amount on curtains, cushions, linens and papers.
As always:
🍃 Always Phthalate-free and vegan-friendly formulation
🎁 Contains natural orange essential oil (Citrus sinensis) and Ginger essential oil (Zingiber officinale)
🐾
- Dog & Cat -friendly with our salicylate-free formulation.
---