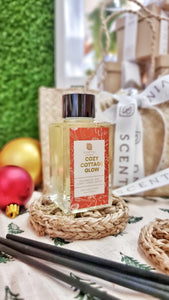 Scentful Living
85ml Aromatic Diffuser Cozy Cottage Glow
Regular price
₱588.80
₱0.00
Unit price
per
Tax included.
About the scent: Ignite the spirit of the holidays with the captivating aroma of "Cozy Cottage Glow." This enchanting fragrance weaves together the comforting embrace of Cedarwood and Pine with the sweetness of Honey, the warmth of Amber, and the smoky allure of a crackling fire. With every breath, you'll be transported to a cozy fireside adorned with mistletoe, where the mingling scents create an ambiance of togetherness, love, and winter charm.
How to use:
This simple bottle softly diffuses scent through the reed sticks, creating a mild ambiance without burning, soot and waste.

One bottle may last 1 to 1.5 months or more depending on how often sticks are flipped.

Comes with 5 reed sticks.
As always:
🍃 Always Phthalate-free and Vegan-Friendly
---