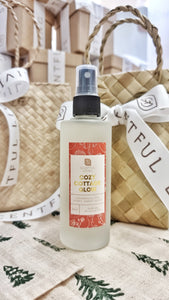 Scentful Living
85ml Sanitizing All-around Mist - Cozy Cottage Glow
Regular price
₱384.80
₱0.00
Unit price
per
Tax included.
Ignite the spirit of the holidays with the captivating aroma of "Cozy Cottage Glow." This enchanting fragrance weaves together the comforting embrace of Cedarwood and Pine with the sweetness of Honey, the warmth of Amber, and the smoky allure of a crackling fire. With every breath, you'll be transported to a cozy fireside adorned with mistletoe, where the mingling scents create an ambiance of togetherness, love, and winter charm.
How to use: Instantly scent, change the ambiance, and sanitize in any room in your home with our our sanitizing sprays! Our sanitizing spray bases are made with methanol-free Sugarcane alcohol and proven effective to kill 99.99% bacteria and microbes through third party laboratory tests.
Spray a small amount on curtains, cushions, linens and papers.


As always:
🍃 Always Phthalate-free and vegan-friendly
---