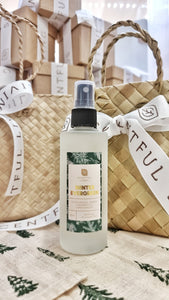 Scentful Living
85ml Sanitizing All-around Mist -Winter Evergreen
Regular price
₱384.80
₱0.00
Unit price
per
Tax included.
About the scent: Embrace the tranquility and enchantment of the winter season with "Winter Evergreen," a captivating fragrance that capture the serene and revitalizing essence of winter landscapes. The woody and aromatic notes evoke the beauty of snowy forests and the calm of chilly, yet invigorating air. Winter Evergreen bring a sense of relaxation, comfort, and a touch of festive spirit to any setting, making them perfect companions for the holiday season and beyond.
How to use: Instantly scent, change the ambiance, and sanitize in any room in your home with our our sanitizing sprays! Our sanitizing spray bases are made with methanol-free Sugarcane alcohol and proven effective to kill 99.99% bacteria and microbes through third party laboratory tests.
Spray a small amount on curtains, cushions, linens and papers.


As always:
🍃 Always Phthalate-free and vegan-friendly
---