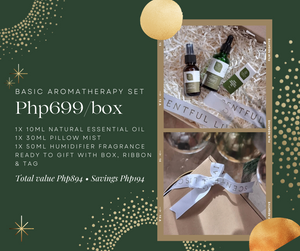 Scentful Living
Basic Aromatherapy Set (Php699/set)
Regular price
₱699.00
Sale price
₱894.00
Unit price
per
Tax included.
Each set comes with:

1 x 10ml Natural Essential Oil (Choose an oil below)
1 x 30ml Pillow Mist (Choose a scent below)
1 x 50ml Water Soluble Humidifier Fragrance (Choose a scent below)

Ready to gift with box, ribbon & tag
10ml Natural Oils:
Patchouli (Grounding & Meditative)

Pine (Refreshing & Uplifting)


Tea Tree (Herbaceous, insect repellant & odor controller)

Citronella (Relieving; Eases headaches & tension)

Grapefruit (Energizing)

Eucalyptus (Respiratory Relief; Improves circulation)

Rosemary (For Focus & Energy)

Mint (Peppermint x Spearmint blend)

Lavender (Relaxing)

Peppermint (For Focus & Headache relief)

Sweet Orange (Stimulating & Purifying)
30ml Pillow Mists:
Refreshing Mint

Relaxing Lavender Vanilla 🐾

50ml Water Soluble Humidifier Fragrances:
Bamboo & Lotus

Sweet Pea

🐾

Coastal Woods

Juniper & Basil

Ginger Lily


Grapefruit 🐾
To order this set:
Indicate the scent you want for this set in the Notes portion when you check out.
Suggested Format: (Qty) x Basic Aromatherapy Set (Php699/box) (Scent) Natural Oil, (Scent) Pillow Mist & (Scent) 50ml Water Soluble Fragrance
Example: 10 sets x Basic Aromatherapy Set (Php699/box) Peppermint Natural Oil, Lavender Vanilla Pillow Mist & Sweet Pea 50ml Water Soluble Fragrance

If ordering 5 sets or more and want us to do assorted variations, just let us know and we'll be happy to select the products for you.
---