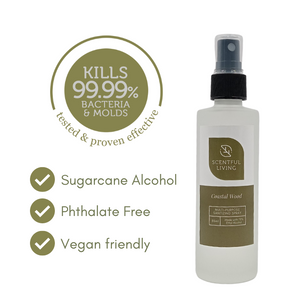 Scentful Living
Coastalwood Room Spray
Regular price
₱334.80
₱0.00
Unit price
per
Tax included.
About the scent: A mixture of citrus, pine, cardamom, and light amber to creates a warm, inviting ambience that will make you feel like you're up in the woods
How to use:
Instantly scent, change the ambiance, and sanitize in any room in your home with our our sanitizing sprays! Our sanitizing spray bases are made with methanol-free Sugarcane alcohol and proven effective to kill 99.99% bacteria and microbes through third party laboratory tests.
Spray a small amount on curtains, cushions, linens and papers.
As always:
🍃 Always Phthalate-free
🎁 Contains natural Lemon (Citrus Limon) essential oil, Vetiver (Vetiveria zizanoides) essential oil, Pine (
Pinus sylvestris)
essential oil, Bay Pine (Callitris rhomboidea, N.O. Confirae).
---