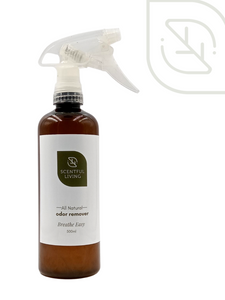 Scentful Living
Plant-based Odor Remover w/ Breathe Easy Essential Oil Blend
Regular price
₱529.00
₱0.00
Unit price
per
Tax included.
BREATHE EASY is an all-natural blend of Sweet Orange, Peppermint, Eucalyptus, and Tea Tree Essential Oils. A perfect healing scent for congestion or cough. Spray on beddings and linens to get relief while resting.
Benefits:

- Features a mix of essential oils known to soothe chest congestion, open up the respiratory tract, and improve circulation
- Contains anti-bacterial, antiseptic, and air-purifying properties
- Uses plant-derived enzymes to completely destroy odor-causing bacteria.
How to use: It is a ready to use formula that combines the fast action of chemistry with the long-term benefits of nature's gentle care. It is all natural and completely safe for use anywhere in and around the home.

Use on all things smelly like:
Cigarette Smoke
Cars,
Garbage,
Carpets,
Gym bags,
Shoes,
Pet Urine & Cages,
Mold, Mildew and Stale Odors,
Kitchen,
Toilets,
Locker Rooms,
even the stench of Dead Rats!
As always:
🍃 Always Phthalate-free and vegan friendly
🎁 Contains Sweet Orange Essential Oil (Citrus Sinensis), Eucalyptus Essential Oil (Eucalyptus Globulus), Peppermint Essential Oil (Mentha Piperita), Tea Tree Essential Oil (Melaleuca Alternifolia).

---