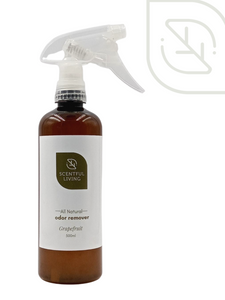 Scentful Living
Plant-based Odor Remover w/ Grapefruit Essential Oil 🐾
Regular price
₱529.00
₱0.00
Unit price
per
Tax included.
Using plant-derived enzymes to completely destroy odor-causing bacteria, it is a ready to use formula that combines the fast action of chemistry with the long term benefits of nature's gentle care. It is all natural and completely safe for use anywhere in and around the home.
Use on all things smelly like:
Cigarette Smoke
Cars,
Garbage,
Carpets,
Gym bags,
Shoes,
Pet Urine & Cages,
Mold, Mildew and Stale Odors,
Kitchen,
Toilets,
Locker Rooms,
even the stench of Dead Rats!
As always:
🍃 Always Phthalate-free and vegan-friendly
🎁 Contains natural grapefruit essential oil (Citrus paradisi)

🐾

- Dog & Cat -friendly with our salicylate-free formulation.
---